3rd December 2013
Keep The Fire Burning! Memefest extradisciplinary seminar/workshop/intervention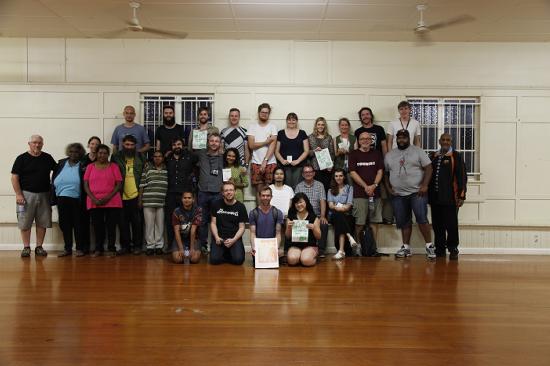 "The Memefest workshop was a fantastic conclusion to my Bachelor of Design at QCA. I learnt an incredible amount throughout the 8 day workshop in a way which I hadn't encountered throughout my entire degree. The collaboration between students, academics and The Aboriginal Sovereign Embassy played a great role in creating meaningful context for my work as a designer. The outcomes couldn't have been achieved within a normal classroom setting and I feel very lucky to have been a part of this wonderful learning experience." Thomas Roohan VCD graduate 2013
Just recently we have ended the second Memefest/QCA event on Food Democracy. The last one here at QCA. The event was part of the Memefest/QCA Award for Imaginative Critical Intervention, curated by Dr Oliver Vodeb and Dr George Petelin. We have collaborated witht the fantastic Brisbane Aboriginal Sovereign Embassy in order to strenghten their food program.
What happened was extraordinary. In short- more than 45 participants were involved during the process and worked very hard for 8 days- unpaid, outside of the official curriculum, within the formal environment of the University, for activist purposes. All here in Brisbane. Socially responsive communication, extradisciplinary investigation, direct action. Local, interstate an International participants- students, academics, activists and professionals. Two and a half days of intensive conference, than workshop model, than public intervention. And what matters, a high level of genuine collaboration among participants was established. And we sat around the sacred fire.
Have a look at the whole project and photo and sound documentation and see what we have been developing on the Memefest's web site and read more participants responses bellow.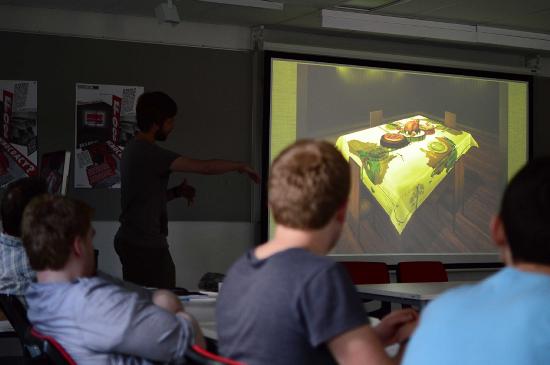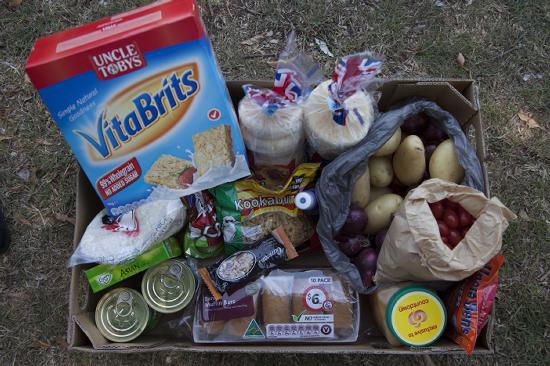 Belinda Li VCD graduate 2012
Participating in the Memefest workshop for the second time this year has reiterated to me the value of projects of this nature. Study within a classroom setting during my degree was predominantly done individually, with a focus on developing the 'self' as designer as a separate entity from the circles in which creative practitioners operate. Although group discussions at times facilitated interaction and debate, opportunities for this were rare, and were performed on a theoretical basis with few 'real world' effects.
A great strength of Memefest is the way it harnesses the connection between creative practitioners and their audience. For designers in particular, there is a disconnect between the media we generate and the aftereffects of its dissemination. By determining a social purpose for this project, participants put their skills to task in a manner which seeks to engage the viewer on a deeper level; going beyond an attractive façade. The actions which we took during our interventions delivered a sense of immediacy and validity to our work that was absent in most of the projects I undertook as a design student.
The collaborative nature of the project benefits participants by providing them with the chance to encounter a range of perspectives and insights which they are not exposed to through working individually. Memefest challenges participants' existent modes of thought by exposing them to different knowledge bases and critical thinking, whilst ultimately encouraging individuals to negotiate with each other to work towards a single purpose. The combination of participants' varying cultural and educational backgrounds meant that, as a group, we were able to utilise the specialities of each individual to create the best outcome. This collaborative project was rewarding to me not only because it enabled me to meet interesting people but also because the challenges that accompany working with others served to make the end resolution more rewarding.
I think projects like Memefest improve the creative community and the community at large by fostering exactly that – a sense of community; creating an active dialogue. The project has made me acutely aware of not only social issues that I am usually blind to but also of what can be achieved to aid them when likeminded people put their heads together.
Adrian Doidge VCD graduate 2013
I recently participated in the 2013 Memefest and accompanying workshop, and I would just like to illustrate how valuable I found the process. There are few opportunities within the university to collaborate across different disciplines and methods, which is quite a shame, and this workshop created the perfect atmosphere to learn from and teach others about different ways of problem solving, communicating and expressing opinions and information regarding serious real time issues. Collaboration is an important part of any discipline and profession, and the lessons learnt at this years Memefest were invaluable to my personal practice.
Secondly, I would like to say how grateful I am to be given the opportunity to work amongst professionals and piers alike in order to research, understand and problem solve for a real world issue, particularly in an environment which is not concerned with grading systems, but more concerned with overall participation, understanding and implementation. I was surprised at how much learning and development was able to take place in such a small and intensive space of time as the one offered by this program, and would estimate that the same amount of learning and work took place here as within an entire semester for regular subjects. Although there is an obvious need for the university to maintain its regular curriculum and system, I would advocate and commend the university to also supply further opportunities for students to participate in environments such as the Memefest workshops in the future.
Sophie van der Drift VCD graduate 2013
The Memefest workshop followed closely after end of semester, providing an opportunity for students who had been taught of the theoretical importance of collaboration to put it physically into practice. It provided an opportunity to develop our post-university knowledge in an communicative environment amidst peers, and others from diverse cultural and professional backgrounds. Working alongside esteemed academics, designers, photographers, and artists saw a multi-disciplinary approach to addressing an issue that was considerably more developed due to the extensive knowledge and skill sets of contributing participants. With some international participants, a perspective was provided that was external to those held by the Australians in the workshop and therefore invaluable when addressing issues that, for a lot of Australians, are often approached with societally ingrained misconceptions.
Extensive dialogue between participants and those within the Aboriginal Sovereign Embassy facilitated the accumulation of qualitative research that was then analysed and developed into projects. Relating socially responsive theories to design practice and having the opportunity to integrate our concepts into tangible real-world projects was something that, as a student, I had not done before. I think the fact that students and non-students alike return for Memefest each year, and that after the workshop conclusion participants are still actively collaborating amongst themselves and the Embassy is a reminder that people are often looking for opportunities such as Memefest to actively partake in their communities. Experiencing this workshop as a recently graduated student, it made relevant the philosophies I had studied, challenged my abilities and thought process, and has further motivated me to partake in more socially responsive work in the future.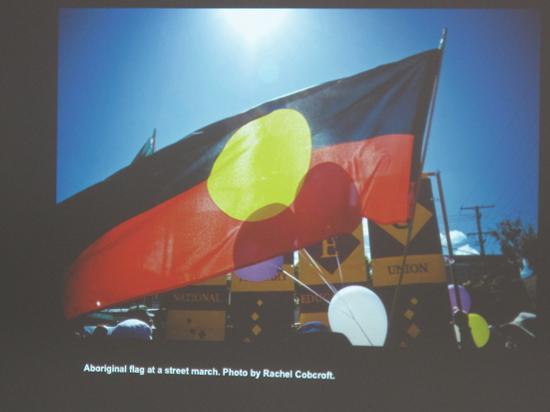 Curated by Dr George Petelin and Dr Oliver Vodeb, the receivers of the award that have been invited to Brisbane- Australia to take part in our in residence program are:
I. Mohammad Naser (Bangladesh) for his work Seeds of Hope/Destruction in which he deals with the core of Food Democracy and life itself- the seed. Mohammad Naser is an avid photographer and a student of Photojournalism at Pathshala-South Asian Media Academy, Bangladesh. He has completed four semesters of his 3-year Diploma course. He is interested in the artistic endeavours of photographs as well as regular documentary projects that specially concern environmental issues. He also completed his masters and bachelors in Electrical & Electronic Engineering from Islamic University of Technology (IUT), Bangladesh.
II. Eugenio Tisselli, Odilón Martínez and Families in Tlahuitoltepec (Mexico) for the work Los ojos de la milpa (The eyes of the milpa). Eugenio Tisselli was born in Mexico City, 1972. Writer and programmer. Areas of interest include artistic software, social technologies and digital narratives. His work (installation, performance, software and text) has been featured in different publications, festivals and exhibitions around the world. He was an associate researcher at Sony Computer Science Lab in Paris, and is currently teacher and co-director of the Master in Digital Arts at the Pompeu Fabra University in Barcelona. He is a PhD candidate at Z-Node, and has developed the ojoVoz platform as part of his research: http://ojovoz.net. His personal work can be seen at http://www.motorhueso.net.
III. Miha Mazzini and Marko Plahuta (Slovenia) for the work Eat for Democracy! Miha Mazzini is a writer, author of 27 published books, translated in 9 languages. His work was selected for many anthologies including Pushcart prize 2011. Screenwriter of 2 award winning feature films and writer and director of 5 short films. He holds a MA in Creative Writing for Film and Television from The University of Sheffield and a PhD in Anthropology of Everyday Life, Institutum Studiorum Humanitatis, Slovenia. He is voting member of the European Film Academy and works also as computer consultant specialized for user interfaces on the web and mobile phones applications.